Just in case a new frame is needed
A New version of our oldest AC Power conditioner, new very modern...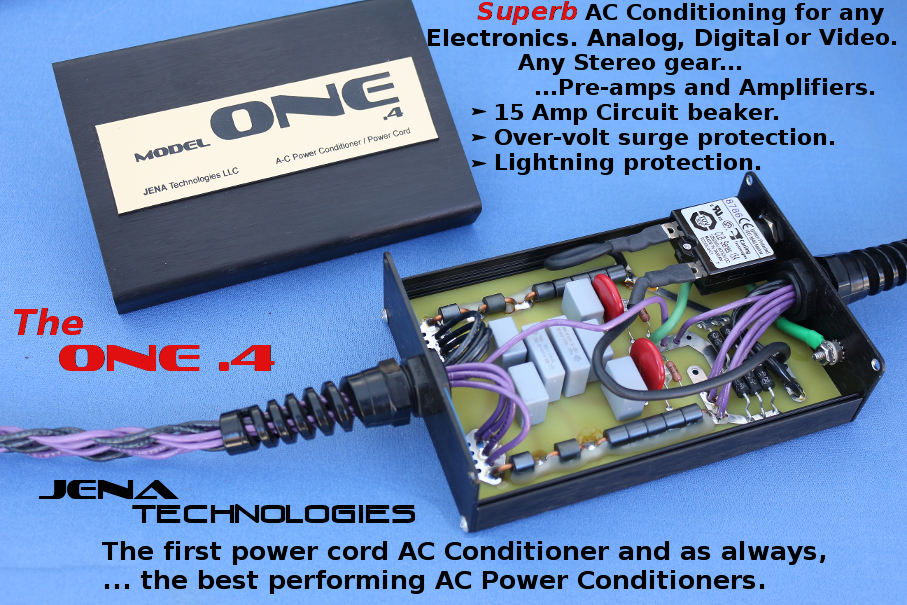 New design and architecture of the board  - Many electronic components are no longer axial lead types.

All Model Ones.anything are convertible to the new Model One.4 versions single or double out rubber cord or braided. (see link for price, soon)

Versions will be available in both handmade 9 wire JENA power-cord construction or Mill Spec. "rubber" cords as input and output.
NEMA standard and international IEC output (BLACK HUBBELL JENA NEMA) and very Compact high performance IEC - soldered connections

First customer comments from someone who had a conversion from a Model One.2 to the new Model One.4 -
Something we do now as a standard offering.
    Comment:    
I Received the Conditioner today all in one piece. Packaged Great! Put it in the system on the amps and fired it up. Wow!!! First impression right out the gate, Deeper and Blacker back round than the One.2.    
   Sound-stage widened and vocals are much more clearer. As if a veil was removed from the speakers, and believe me my system is revealing. In my opinion highly efficient single point source drivers and single ended triode's are a beautiful combo. Bass is nice and tight and all the instruments seem to be more evident, smaller details are easily heard. You've done it again my friend! - T.C.

    
The continuation of the AC power conditioner in a power cord is realized with the new Model One.4
The price of this conditioner is $2,000.00 for the top line version, single output.

purchasers can buy it now - its ready now.
  buy it now link below:
Website initializedon Hevanet   V - XXVIII - MCMXCVIII
Copyright 2017 Jennifer Crock and Michael Crock, JENA Technologies LLC ©
  ...