The

New

Model 3 AC Power Conditioner: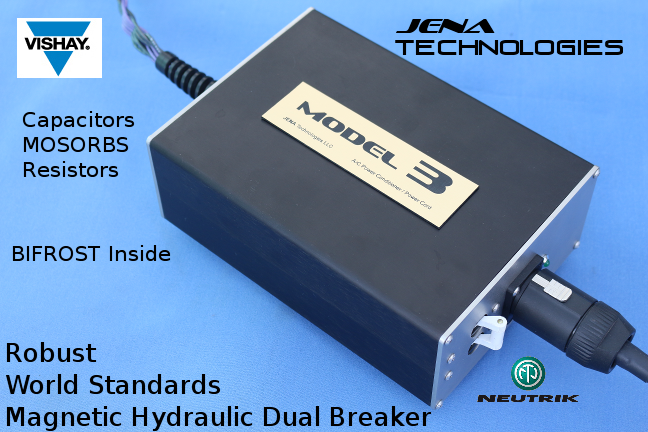 .


Please note: The Model 3 is world compatible with both single sided AC power, Hot-Neutral-Ground, and balanced power, Hot-Ground Hot.

The Model 3 is available in two voltage versions.

And we now offer the 32 amp IEC high current plug at the output for Boulder Amps if desired by special order.

This version is for AC power of 100 to 130 volts and is convertible to 240 VAC just by switching the BIFROST module.
This power can be single sided such as the USA standard of Hot-Neutral-Ground, or balanced such as Hot-Ground-Hot.
All world standard systems are accounted for in this design. The AC power can be single sided such as USA or European Hot-Neutral-Ground, or USA 240 balanced such as Hot-Ground-Hot.

The conversion of any Model 3 from one voltage range to the other can be accomplished in the field by simply exchanging the BIFROST module.
With the exchange of this one simple module, the Model 3 becomes compliant with any grounded household AC power system in the world.

.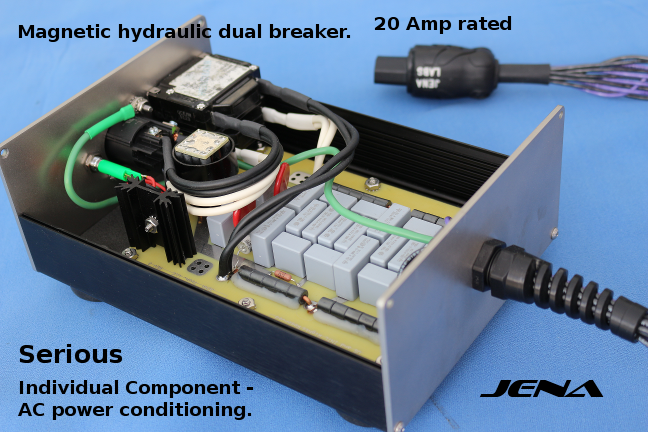 . Production Model
The Model 3 based on the evolution of our sequoia sapling board and its variations, continues to evolve with many new features.

The new model designation is because it is not a version of the Model One. It is a new design fundamentally, different and improved through its evolution in multiple ways.

These are The Model 3's features:

A

Magnetic Hydraulic

Dual Circuit Breaker (Same as the Sequoia) rated to the 20 Amp national standard. Its main feature is it breaks and resets on both the hot and neutral rails and has a quieter electrical operation.

Certified Vishay Capacitors. These capacitors are multinational certified and are designated for either X or Y use depending on the place in the circuit.

The Gas Tube spike and lightning protection circuit combines with Metal Oxide Varistors of truly modern design. It is out of the circuit so it is dead silent in the circuit until protection from lightning needed, very fast reacting.


Mosorb technology integrated into the active circuit to give general surge protection to both over-volt and surge current. Super protection, we invented the arrangement into a new kind of replaceable package.

( Our name "BIFROST"

) Is a module. It is very quiet under normal operation and super fast acting in the circuit when needed to clamp to ground. As a sacrificial component it takes the potential damage from bad line events which do happen in the real world. It is designed to be completely replaceable in the field so shipping back to us is no longer necessary when bad things happen in the world of AC power.

Vishay precision bleed down resistors - non inductive.


NEW

Cardas NEMA and 32 amp Powercon

& Cardas IEC plugs, custom modified design for use by JENA Technologies. These are great, rhodium plated parts and these replace the great parts we used. Better parts and are very good looking.

On the production versions... Stainless end plates of heavy build and a distinctive appearance on the production models. The laser cut .115 thick 11 GA SS T304 Stainless Steel is edge sanded for smoothing and then bead blasted in house to give a finish that is easy to clean and will last many years looking great. And the main housing parts are an anodized aluminum extrusion we modify and line with Cascade Audio Engineering VB2.


instead of the 9 wires of 16 gauge, we have been able to incorporate 11 wires of 16 gauge wires into the weave of the cords, so it will handle the heaviest loads of big amplifiers. Up to 20 amps before the breaker trips.

The assembly hardware,

6-32

button socket cap in 18-8 stainless steel is made by Brighton-Best. (Why? There are a lot of cheap weak fasteners on the market now... we refuse to use merely OK junk for anything.)

Actual physical standard length is about 8 plus ft long

No more fuses they were slightly noisy and required replacement when blown.
The use of a dual Breaker and BIFROST is superior and will give superior performance to the sound of this fabulous solution.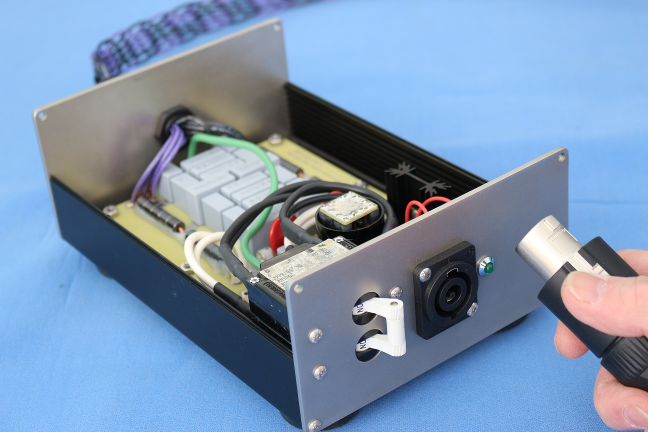 .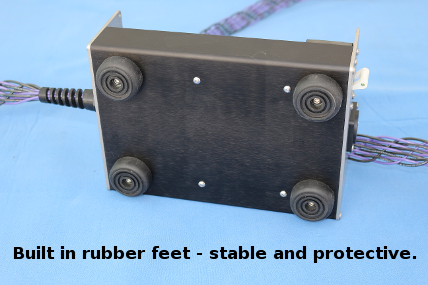 .



.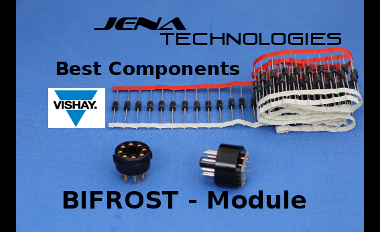 .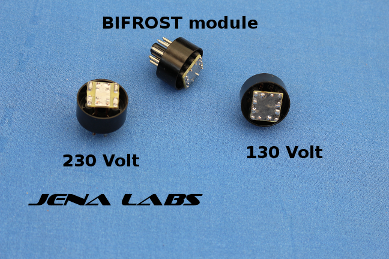 (BIFROST means: Bi-directional Integrated Field Replaceable Over-voltage System Technology )

The BIFROST device itself is hand made by JENA Labs directly in the United States.
The Sockets are a high grade Bakelite base with high grade machined copper and gold plated receptacles.

With the need for high-performance AC power conditioning, and with an eye toward reasonable costs, we set out to create AC power-conditioning products that are affordable yet give a range of AC power conditioning that will satisfy almost any set of needs. All of these products are award winning designs, built to last, with dependable and predictable results that have made them famous.

The Model 3 will be incorporated in some new Amplifiers Products Not made by JENA as the standard power cord options that are available as standard equipment...
That speaks Volumes as to how good these are.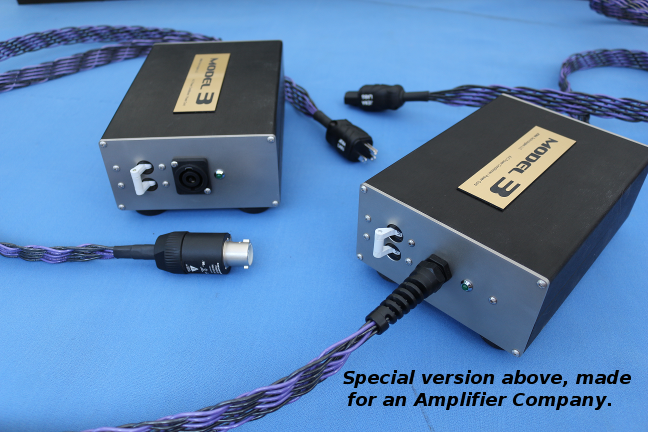 .
We set the bar very high and with this series of AC power Conditioners just set it higher with the new Model 3.

Comes with an new version of our Power Cord as well: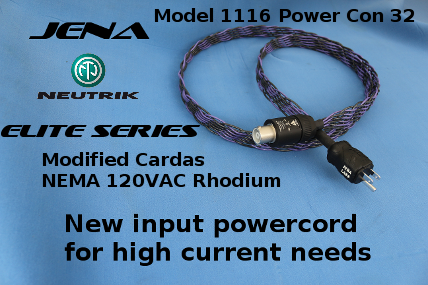 .


The PC Card has a built in buss bars that will handle over 20 amp loads with ease.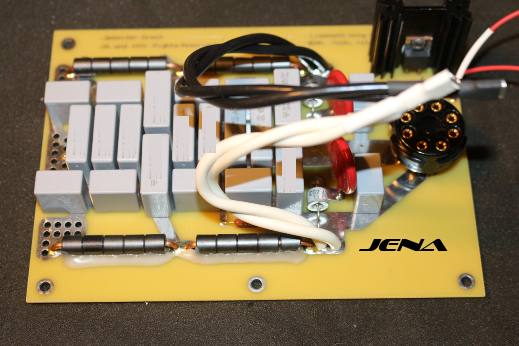 .
This is a Sequoia Board - used in the Model 3 from JENA


Various inductors are selected for frequency filtering over a broad bandwidth of noise.
Cardas® quad eutectic solder is used always with all of our power conditioners. Never any shortcuts to using the best of all components and materials.

We hand select all of our parts and carefully choosing only the finest and toughest for the purpose intended.

None of our conditioners are made by a machine, all are built by hand by a NASA certified hand solder expert.
After we produced several hundred Model Ones... all are still out in the field doing their work, none ever failed to do what it does... we just decided to better our own product.
Why not, we learn, we grow. we design the best of the best. The Model 3 is the standard by which others must compete with.

The Model 3 price is $4000.00 for the stock unit.



Updated March 12 th, 2017

The Revolution in our power conditioners is being advanced by the technical evolution of all of our models.
The second of our new generation of AC power conditioning products is the Model 3. A potent AC conditioner.