The introduction of this type of power conditioner is not something new with JENA Labs
.
        We have built many custom power conditioners in the past.
       

     .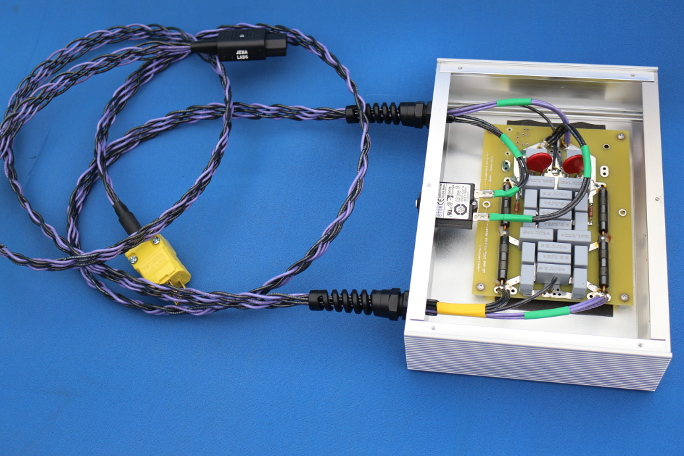 .
      The above is a re-purposed kit box we had spare for a customer. Sort of a Pre Model Three idea. The original owner commissioned us to build this and purchased it once we were finished.




   
    We were given a compact specialty signal generator (Noise really) and duplex distribution wooden box to modify.
 We examined it and thought it was something we could work with as nothing of its previous configuration would be left except a ground lug. Even the duplexes which were something we supplied to the original manufacture would need to be jumpered back to stock. They would no longer be as it was from the manufacturer of the original wood case.

 So this was a total gut to wood. Interestingly and totally by Coincidence a Sequoia Main board could be made to fit this small enclosure without serious modification. 
    
    So we decided it was something we could do.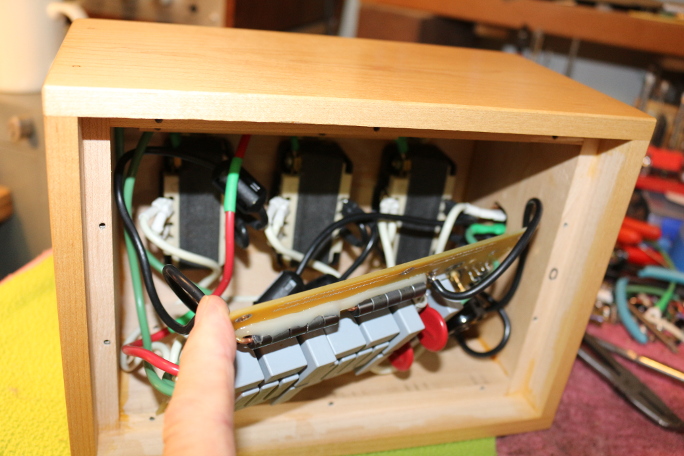 .
    It was gutted to the bare wood and we started over. See above.
    we had to jumper all of the duplexes as they were cut at the junction rails side to side.
    It did have our duplexes in it to begin with - that was good.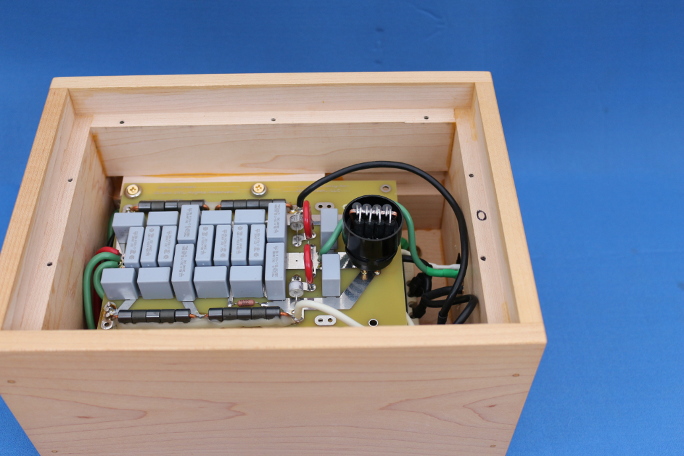 .
    This is now a real power conditioner in a wooden small box. 
    With care it will last a long time giving good service.
    It now has a thermal Circuit Breaker rated for 15 amps on the hot leg as per regulations of law and good standards of practice.

    Outside of it below:
    It also is protected with our BIFROST technology and gas tube technology against high voltage spikes and lightning.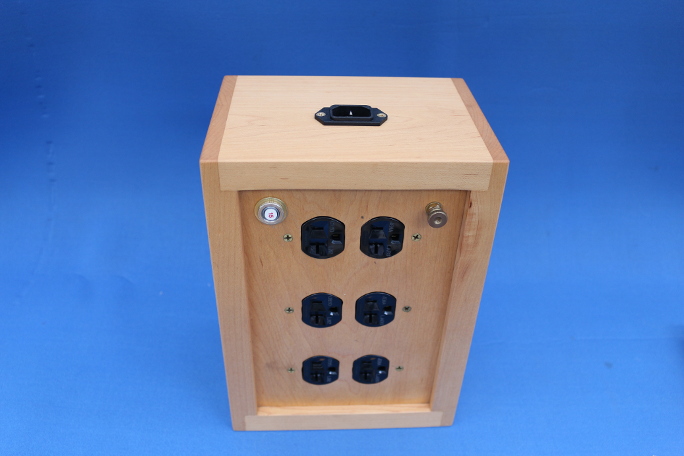 .
    Above: The input Connector was replaced and upgraded
We did rebuild one element as it was from the original manufacturer, the Brass Ground was returned to its place but we did upgrade its internal ground connections


    Below:
  
    This is how it now looks
    No Pilot Light on this, although it could have been added with some difficulty it was decided to leave it off.
    The original name plate was removed because in reality it is a new product completely...
    ... and we did not want to be associated with the "other Company" with only a casual look like it was originally. We had one made to fit its new life as a genuine power conditioner instead of a noise signal generator.

 Completed below:  We provided a new JENA Ferrite power cord as the customer bought one from us.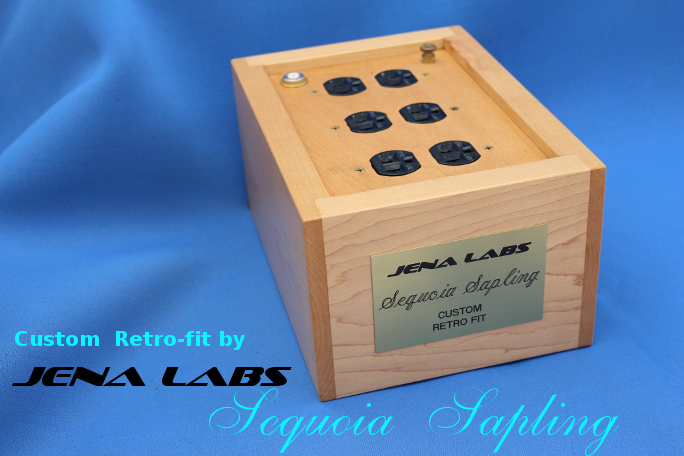 .





    A sequoia- Sapling series one is what prompted us to do these.
        The Sequoia-Sapling Power series One is made out of a nice distribution box that did have some light conditioner aspects to it originally. We removed the original electronics and re-manufactured it to our specifications.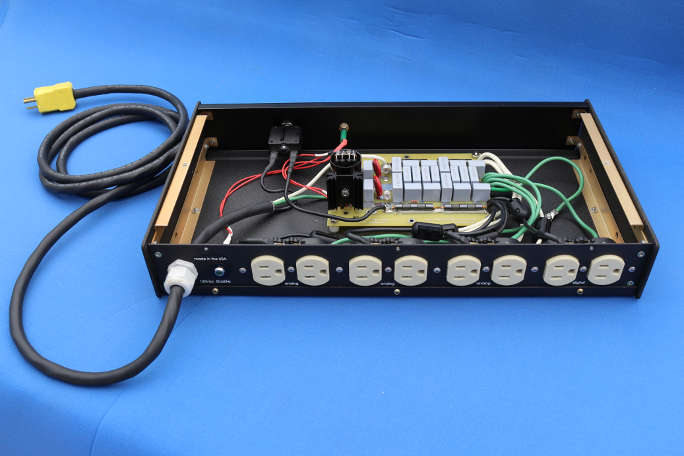 .
The Sequoia Sapling series 1 above is a refit with these features:
Fully regulated led power light in two locations front and back.
Rating of its power handling is determined by the 15 Amp Circuit Breaker, not a limitation of the circuit components they are rated to over 20 Amps.


No power switch, plug it in it is ON,
Thermal 15 Amp Circuit Breaker on the hot leg - no fuse.

4 Hubbell 15 amp duplexes

Certified Vishay Capacitors X and Y mode as appropriate.

Rails rated to 20 amp.

Regulated LED pilot lights - 2 Locations front and back

Green Led was enhanced with soldered construction not a mere push in connections for a long life.


star grounding Each duplex has its own ground lead.

lugged attachments to the Duplexes - they are replaceable


soldered with Cardas Quad Eutectic at all junctions to the beefy Printed Circuit Card.

ferrite clamps each wire lead to each duplex leg hot and neutral.


Exclusive BIFROST MOSORB technology as part of the fast clamp to protect from over volt power surge. - field replaceable octal design.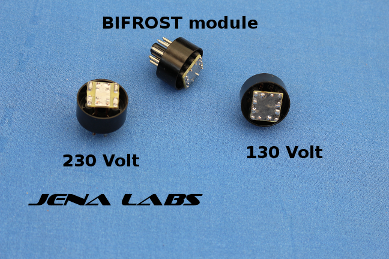 Gas tube arrestors with varistor technology for lightning protection.

This is the driver stage of our premiere Power Conditioner, the Sequoia, hence the name.

Proper wiring with rated power cord.
Hubbell NEMA power plug

Fully Grounded.

This is a work horse unit made to last.


e-mail for more detailed info or to have your power conditioner made to work if possible.

        mail@jenatek.com - Mike

        e-mail@jenalabs.com - Jennifer
 



                                      

Website initialized on Hevanet  May 28 1998
Copyright ©2015 Jennifer Crock and Michael Crock, JENA Technologies LLC ©