Updated: Aug. 10th - 2017


    This premium Elite Series AC power conditioner does more than provide superior AC power conditioning via power line noise reduction.
    It provides AC Power line protection from voltage surges and very fast acting lightning protection as well.

   

The Sequoia Sapling is ultimately designed to facilitate

delivery of smoothed pure AC power to make your music, video, and any other use that will benefit from clean AC power, perform

at their maximum potential. An Elite Series Product.

NEW - 

PowerCon AC output version is in production now.
 

has just announced the additional option of Neutrik© PowerCon version of the Sequoia Sapling.

   

Why the name? 

The Giant Sequoia is a tree, the greatest tree in existence.
With no known competitors in its space, very tough, resilient to all environmental adverse conditions. Its environment is harsh, yet it persists and thrives.
Its Ever lasting, Ever Green in its lushness and purity of purpose.  Our Sequoia Series is an honoring of what is in nature, just the most magnificent tree in the world.

  The sapling of a sequoia is a direct lineage of its propagation.  
    These AC Power Conditioners contain the essence of our Sequoia, yet grows in its own soil.

Important Note:

      All new units will
have a new Chassis design, in the works now with an option to Rack mount as a design feature.
      All new units will
have Magnetic Hydraulic Dual Circuit Breaker and power Switch.
     Pictures of it will show soon to replace these below...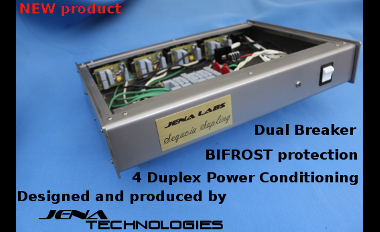 .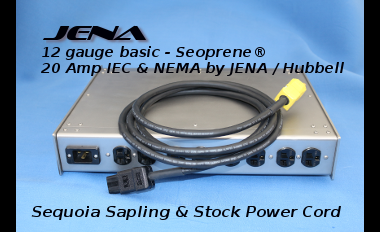 .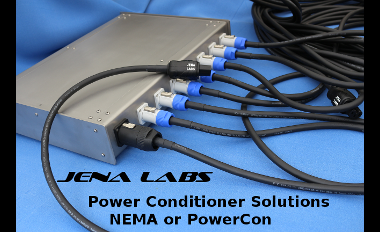 .

All pictures here show the Dual Thermal Breaker power Switch and the older Case Design.

is never asleep.  We Invent, we innovate and produce the best of what can be made.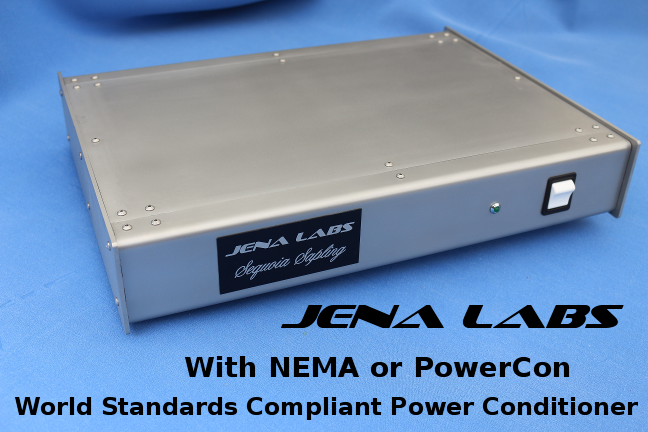 optional black nameplate


     The Latest Options Includes the Neutrik powerCON 32 A chassis power input.
The Latest Version of the Sequoia Sapling is fully World Class with the most current standards.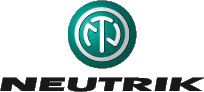 . PowerCon 32 Amp. The locking input and all PowerCON 20 amp locking outputs.
On that version of the Sequoia Sapling.


.

These are a part of that concept of Locking plugs IN & OUT

This is the new way to go for those who want locking power connections.


Safe and secure

.... We will be offering the Neutrik® PowerCon 32 Amp input on all our power Conditioners in future production except Model One.4

Pictures represent the older version no longer in production. internal features are mostly accurate.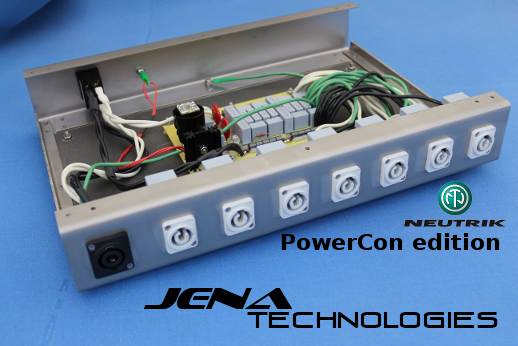 .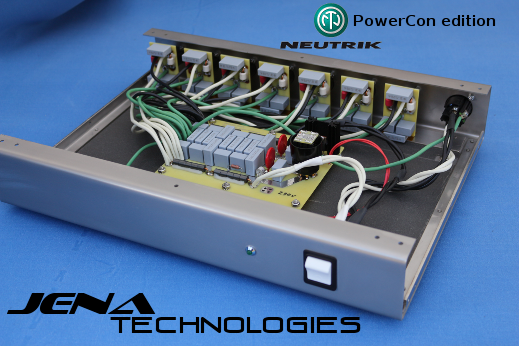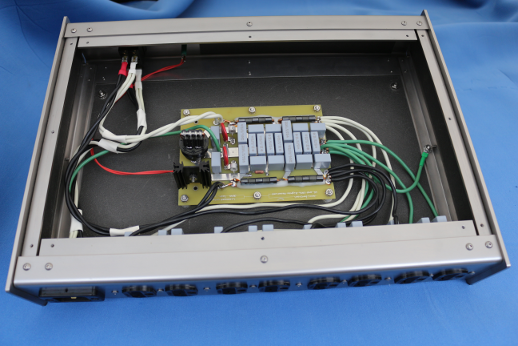 .
    Below: the 1116 Royal Power cord as optional equipment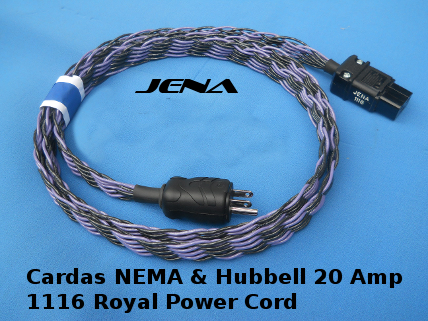 . New units are made with the Neutrik Power Con 32 amp output for this cord.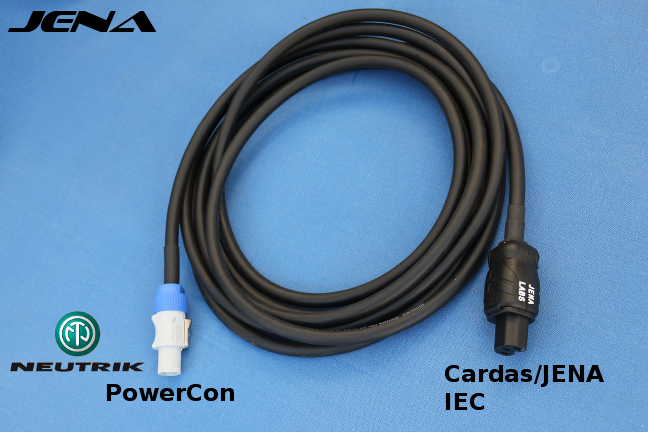 .
Above: PowerCon output power cord - Cardas/JENA high current standard IEC at the delivery end
PowerCon outputs by

and the higher rated Cardas©-

IEC


    With our power conditioners:
Your sound gets better sounding, less audible noise which can be interpreted by you as listening fatigue. Really, you hear it as a quieter background at the speakers of your stereo or even computer system ( Great for computer based audio systems - Like a music server. )

Your high resolution TV /Monitor/ display screen looks cleaner - more defined to its potential. Yes, you can see it. Everything just looks better.

your AC Power is protected by the voltage protection that this power conditioner provides - that's its other function - protection circuits.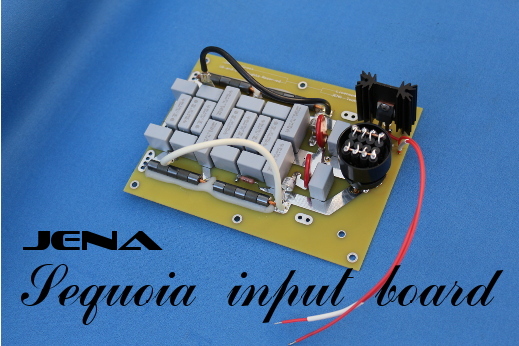 . Same board as the Sequoia flag ship product...

    The Sequoia Sapling is the perfect product for those who recognizance the importance and necessity of Clean AC power.

     .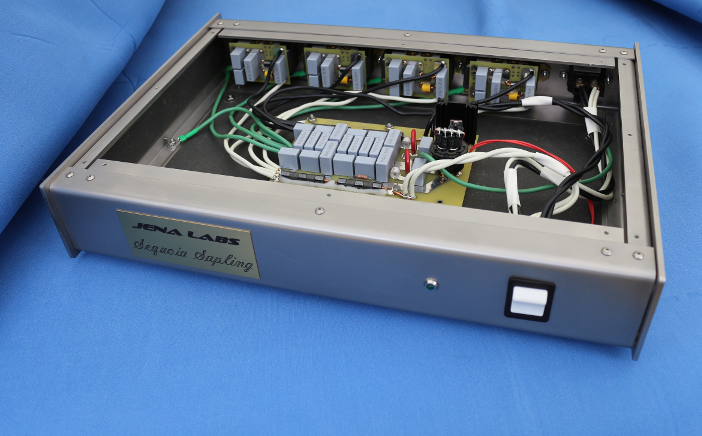 .
     Above: This is a world standard compliant AC power Product.  - 
Below: the Duplex filter is shown.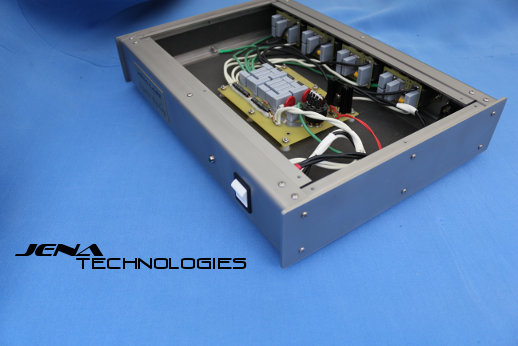 .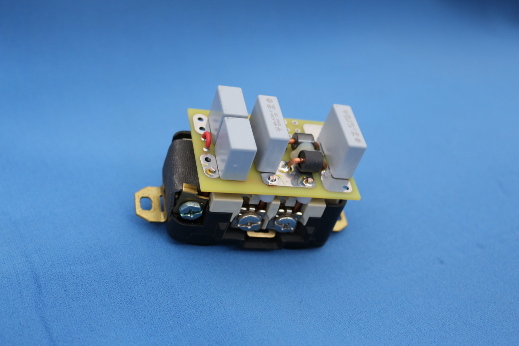 .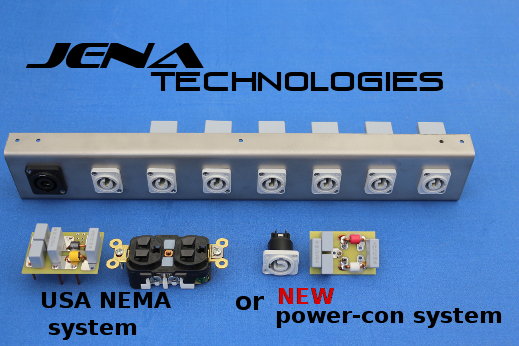 . same filters - different versions.
Fully regulated led power light in the front.
Rating of its power handling is determined by the 20 Amp Circuit Breaker, not the limitation of the circuit components which are rated to over 20 Amps.

The BIFROST Device Can be ordered for setting up to use on 120 VAC or 240 VAC.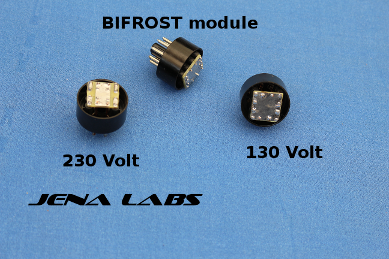 .
Picture hot linked to page about this device

Exclusive BIFROST MOSORB technology as part of the fast clamp to protect from over volt power surge.
   

Field replaceable octal design

.
Bidirectional Integrated Field Replaceable Over-volt System Technology. 

     Features Vishay MOSORB components.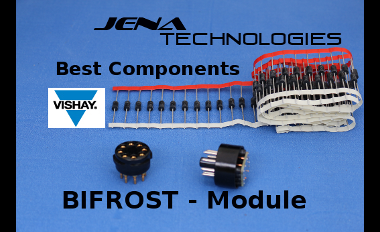 The entire circuit in the equipment also is designed to include gas tube arrestors with varistor technology for lightning protection.
Dual 20 Amp magnetic-hydraulic Circuit Breaker and power switch protects both hot and neutral lines. - World standard power conditioner.


4 Hubbell 20 amp duplexes with added separate mini conditioners and isolator circuit cards.

OR 7 individual 20 amp PowerCon locking AC power outputs.

Standard input AC power is handled by a 20 Amp Hubbell IEC. ( Future units will offer the 32 Amp PowerCon input as standard - Hubbell 20 amp as optional )

Standard power cord is a Heavy Basic Power cord 20 Amp We make with Hubbell NEMA and 20 Amp Hubbell IEC or the powerCon 32


Certified Vishay Capacitors X and Y mode as appropriate.

Rails internally rated to over 20 amp.


BIFROST integration to protect from over-voltage conditions.

Gastube and M.O.V. Lightning protection circuits.


star grounding Each duplex has its own ground lead.

The NEMA Duplexes or PowerCon locking system with mini filter boards are replaceable.


Soldered with Cardas Quad Eutectic at all junctions to the beefy Printed Circuit Card.

Stable rubber feet.
Imagine Below: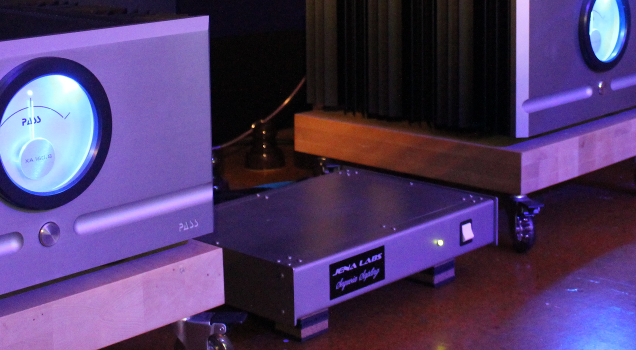 .
Below: A sapling about to ship: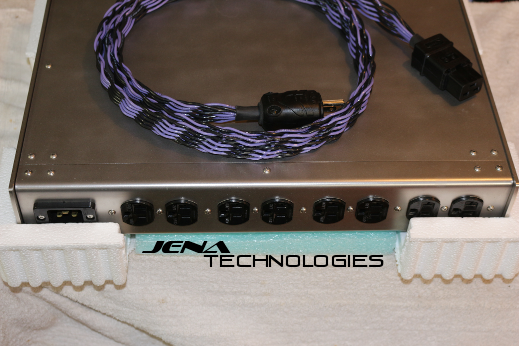 .

Above: older 20 amp Hubbell version shown, with the option 1116 royal cord with Cardas NEMA plug and Hubbell 20 amp IEC.


PowerCon 32 Amp used as standard input (Hubbell Inputs are available by special request with standard Hubbell/JENA Duplexes for a short while.


Newer versions are all PowerCon
32 amp
input. 

This is a very tough unit made to last.

Now make the finalized versions yours.

$7,500.00 - Comes with a Heavy 12 gauge Basic JENA rubber cord with Cardas NEMA input (USA standard) and 32 Amp PowerCon as standard for the 32 amp PowerCon input power connection.

$8,750.00 - with the 1116 Royal PowerCord, Cardas 20 Amp NEMA and 32 Amp PowerCon output to match the 32 amp PowerCon input on the Sequoia-Sapling.
The logical combination for each type of Sequoia Sapling.

    Now In production, both versions.

e-mail for more detailed info.

        mail@jenatek.com - Mike

        e-mail@jenalabs.com - Jennifer
 



                                      

Website initialized on Hevanet  May 28 1998
Copyright ©2017 Jennifer Crock and Michael Crock, JENA Technologies LLC ©
Mike at 

Web Master