The Sequoia Twig AC Power conditioner is Our latest development with

a selectable built in Ground lift Capability

.
It comes with a variety of locking power cords for a choice of practical uses.
It is a powerful choice to add and enhance your AC power conditioning capabilities.

The power cord with its different choices of input plug types can be used to determine how this AC power conditioner is placed and used.
This selectable manor of your choices, gives the user a new dimension of power to control the functional usefulness with practical intelligence.

E.g. "My turntable power supply induces an annoying hum that is getting into the system and it bothers me." This Conditioner may

very well reduce that annoyance to a level unheard of before, while actually enhancing the sound better than before as well.

Good choices of where and how this is conditioner is used, is a first in the world of high end audio via the ability to stack this unit to the output of our other conditioners in such a way as to rival the Sequoia Sapling as a minimum of performance

.

The Sequoia Twig, with a go to solution as it was intended to do, is why it is a valid member of the Elite series of conditioners we offer.

As Shown below

:
The picture of the Sequoia Twig in Bamboo is how all will be made - in Bamboo like the Sequoia itself.

 

MSRP was
$2,900.00 >>> before we eliminated dealers, company wide...
now at least $600.00 less

(see price Matrix )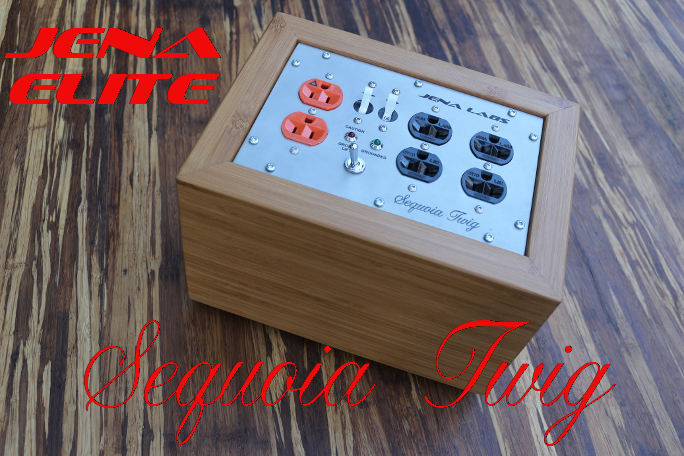 .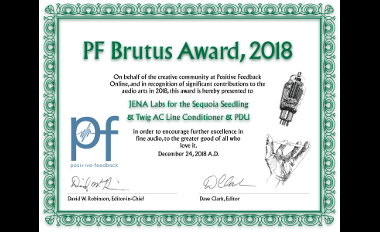 .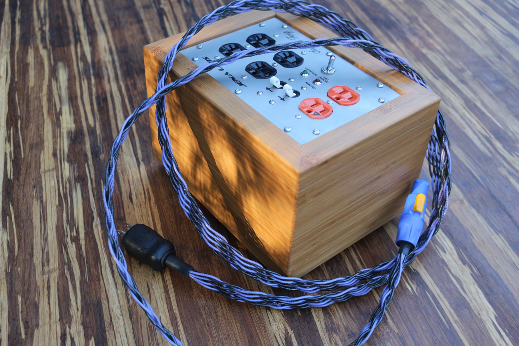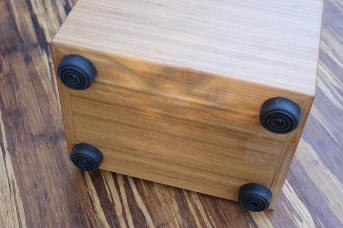 Standard Feet are rubber and attached via #10 appropriate Screws.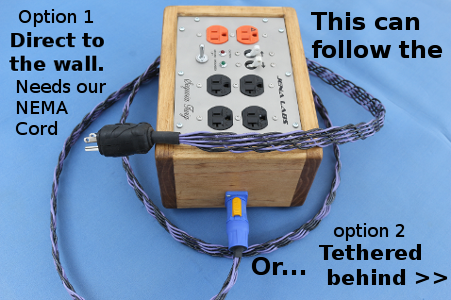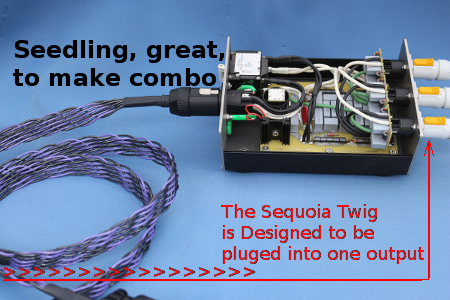 .
Shown Above: An Early Pine Box version for the introduction of the twig (Pine box is no Longer in production)
                                                                                            Shown Above: Separate Product, the internals of The Sequoia Seedling.

 Both options Require a specific power cord made by

. Its the fact that we are using locking Neutrik power con 20 amp plugs on both the Sequoia Seedling and the Twig.

features listed below:
Features full filtration and Isolation for each Heavy Duty Hubble-JENA Enhanced Duplex, two standard 20 amp and one isolated ground (orange) 15 amp duplex - and 5 0r 10 Amp circuit breaker choices when made, for the Orange Duplex ground lift side.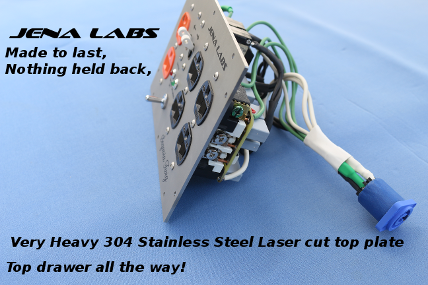 .

  As example of a pre filter is our superb Sequoia Seedling.
 

 

or use Direct to wall... with the appropriate power cord to use with it from a wall outlet...

Recommended AC power-cord designed for A NEMA 120 AC Wall Outlet. (Normal USA wall duplex)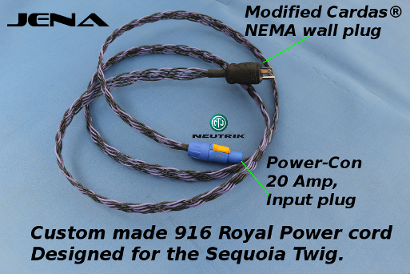 or A specific Power Con 20 in and out tether Cord. (Picture Soon.)
The power circuit breakers for each side make this available as a stand alone system, legal to plug straight into wall if desired.
Safe in any respect anyway. Overbuilt in all aspects
... very tough design.
 
This Hot - Neutral - Ground design when power is coming from the wall is for domestic (USA) use... If used as a tether on an output of -one of our World circuit breaker designs (all and any of the JENA Elite AC power Conditioners, then it becomes global around the world.
It can be used anywhere.


If it is in stand alone use it will require the power cord with the NEMA Standard wall Plug and Power con 20 amp end.
If as a tethered use then if the output on the master ac power conditioner is NEMA duplex then just plug it in.
If the outputs are Power con 20A then the input cord needs to be that type Which was the first use design as concept.


 

This unit has an authentic Neutrik Power-Con 20 Amp connector to feed it
.
and Our Cryo immersed Hubbell Duplexes as outputs


 The modular aspect - ground lift on a specific duplex with indicator lights - the physical extension - real Wow factor!

. Sequoia Twig
(

temporary

) manual
A new Product from
...
  The award is both for the Sequoia Sapling and the Sequoia Twig as prototype.


Power-Con 20 input and feet
shown below in case: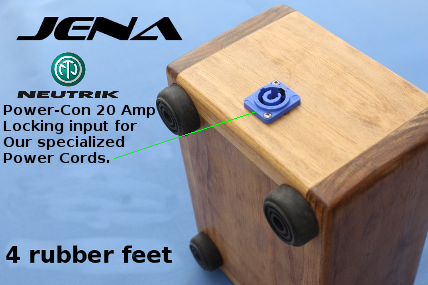 .
...

Our earlier customers may remember The Platinum.
Pictured below from our archive, A Platinum AC Conditioner:
.
.
  The interior of the platinum was pretty stuffed with excellent axial Caps. It was one of the best of its time... 
Although pretty rugged - it was an armature design and is more suseptable to severe physical shock. Changing a duplex very difficult. pretty much requiring a dismantling of the conditioner. almost never needed repair was very involved...  

However the Sequoia Twig seen below has greater per duplex filtration with greater values of Capacitors and certified for world standards.
All Vishey Caps. Specifically Designed for performance AC purposes. 

As well the selective capability
of an isolated ground with specific
isolation per duplex makes is a more versatile device overall.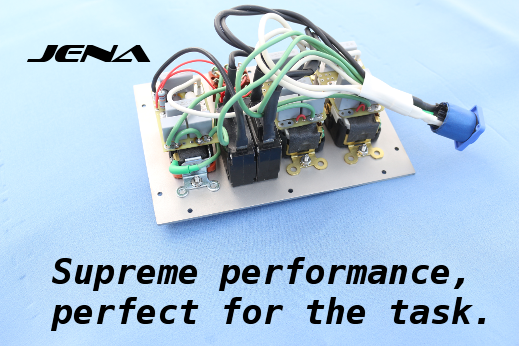 .
Instead of a single breaker switch that performed the task of ON-Off
the new Sequoia Twig has 2 specific breakers to control either the high current duplexes that are all time grounded
and the Isolated or Grouned duplex independently

As well ther is the indicator leds for Grounded -or- Lifted ground status.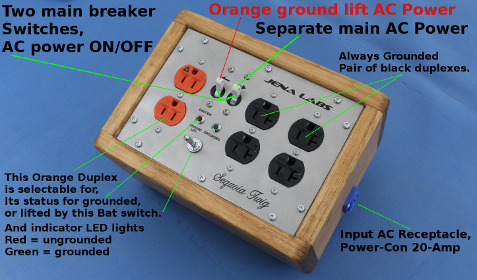 Going forward with improved components in a smaller package... we moved to duplex mounted filter boards with better larger value individual filter networks with good Isolation capabilities and far greater durability from shock and physical conditions - the reality is...
... the Sequoia Twig is a better design.

The ground lift switch was designed by us to eliminate ground hum often produced in certain types of gear - like a turntable motor or other grounding issues with specific problems where an unsafe "Cheater" plug adapter is sometimes used... this is much safer and works extremely well by design.
It is still actually system filtered even when the ground is lifted in the duplex. it will get "darker in the system" - more quite - than what a simple Cheater Plug can or ever could do...

However the thing to actually consider that this product in combination with its being an extension of the primary hub of the system power conditioning via a Sequoia Seedling or Power-Con version of the Sequoia Sapling... is actually its real purpose... and will really work to enhance the sound of the system itself, rather profoundly.

More available outs and better performance throughout the system - it will handle the power draw as these filter networks are not taxed to the limits of the boards - deigned to be used in the massive Sequoia and even there can handle the current with ease.
-----
The power-con version of the power cords is used for the locking of this unit to a Sequoia Sapling or Sequoia Seedling
 in order to enhance and extend the functional use of each in a true modular system.

The Twig will fit to the Sequoia, Sequoia Seedling or the Sapling - ( fitted with Power Con 20 outputs or NEMA) or to the wall directly if the feeding power cord is of the type needed to do the job.


The feeding power cord determines length and type of use.
The outputs are US standard heavy NEMA-JENA Duplexes. 20 amp high current as the standard grounded or 15 amp ground lift duplex.


The reason the twig exists is to act as a physical spreader of AC power and the additional level of conditioning outward from the sequoia seedling is actually greater than the Sequoia Sapling by itself. and has a special feature of a ground lift capability for specific needs.
 
This used as a hub of sorts and allows for shorter power cords away from the source of power due to the distributed style if desired or longer if desired.

By itself the Twig has built in over-volt or surge protection with the use of hydraulic-Magnetic circuit breakers... but is tolerant of inrush current draws from start-ups from power Amps with the use of this type of circuit breaker technology.
This is a powerful filter module which can be a stand alone system.

     Modular System:

This is very well thought out as a system & gives the customer an advantage in the sound of your equipment  compared to any other conditioning equipment made... except the flagship Sequoia itself... which really has no peer or competition.

Why does it have a ground lift?  Turntables, sometimes produce a hum that can be heard through the speakers, this should cure most of specific problems people have, if any.  Yet the outlet itself is always grounded. and generally it provides additional conditioning in a hostile world.
Customer comments:
----------
Mike

I have to get up real early tomorrow and I am going to bed, BUT I need to let you know that the Sequoia Twig made a HUGE difference.
Incredible. I will be in touch soon with more details but for now just WOW. Thanks very much...

web editor
(Fred purchased the first prototype edition which was like the one in the manual on this page... now we have the production units... Identical but for the enclosure )

... later he wrote:
The Sequoia Twig is really incredible. Most of my experience with power conditioners is, there is a sense of some improvement but is not truly audible.

The Twig on the other hand is absolutely audible

. It is like you are hearing silence, lack of noise. I am able to power all I need with my current configuration but what would be the cost of it with the extra duplex if I trade my prototype back in to you. Thanks Mike. I?ll be in touch.
 
Fred

-----
We also had the other owner of one of the prototypes make the comment...

Paraphrased - "Wow, that was not subtle, Do you hear that - (I, said yes) - you really knocked it out of the park again..."

He was using the ground lift and it really did make a huge difference... I was there and although - we made it - - it really does work as designed.

 At Davids Home.
-----

Prices for the Sequoia Twig with these selectable feeder power cord  selections ....
 


New better Prices because we sell direct to customers:


Sequoia Twig with  selectable ground lift with feeding power cord:


916 Royal to Twig Power-con 20 out from power con outputs from Sequoia/ or /

Stock Seedling

.
to Power-con input for Twig input

Option 1

2300.00

Any NEMA source (Wall or Conditioner)


 916 Royal

to Power-Con 20 input on The Sequoia Twig

Option 2

2300.00
A

Seoprene® (Mil Spec)*


rubber power cord: in 14 gauge


Any NEMA source (Wall or Conditioner)


to power-con 20 feeding the Sequoia Twig

Option 3

2100.00
A

Seoprene® (Mil Spec)*


rubber power cord: in 14 gauge
Twig Power-con 20 out from Sequoia/ or /

Stock Seedling

.
Power-con input for Twig input

Option 4

2100.00


Seoprene® (Mil Spec)* rubber power cords are thermally stable in extreme environments, solvent resilient yet tough and very flexible.


Back to top of page >>

Website initialized on Hevanet   V - XXVIII - MCMXCVIII
Copyright 2019 Jennifer Crock and Michael Crock, JENA Technologies LLC ©
Page design by Michael

.


Modular unit power conditioner
Updated: 
Feb.

18

th 2020

. pdf file Manual for use below

             

has eliminated the use of Dealers in order to reduce Prices for our Products.




    ...