...
...

produces a very wide spectrum of interconnects and speaker cables for home stereo and professional applications. We are proud of the reputation they have achieved, and customer loyalty has been remarkable. We firmly believe that anyone who produces the best of something is eventually going to develop the reputation he or she deserves. That kind of reputation cannot be bought. That is how we have survived and thrived for so long. 
We developed a concept that continues to this day,  our interconnects are built to an supreme standard of excellence in performance. The application of Science and Art is not mutually exclusive but one must not be subservient to the other as regards to the main goal of Supreme performance. In the end, it is the performance mark that defines what they are made of, how they are made and what these products look like. We will continue to make cables of that caliber, in every category and type we produce.
Immersion cryogenic treatment included on all models.
All braided interconnects and power cords will have variances in lengths which is a product of both the braiding by hand and the phase length control we employ to ensure the highest performance possible.  we carefully calculate to hold something close to a specified length with precision of replication but in reality they might be a little longer... such that an interconnect ordered to be 3 ft might actually be 3 ft 1 inch-ish, sort of. Perfection of sound is the goal, not  accuracy of absolute length which will vary even with handling a finished interconnect... They are braided and not with a machine.
Notes:
Our RCA type Cardas / JENA modified connectors can no longer be ordered with Gold Plating* The only offering is Rhodium Plating which is the only plating available now.
Additionally the XLR types can also be ordered with Gold Plated pins instead of the normal Silver Plating which is stock. These will have black housings.
    The general effect is a slightly warmer sound with the Gold Plating... The Rhodium is known for its more neutral sound profile.
*Cardas has stopped making Gold Plated Parts.
.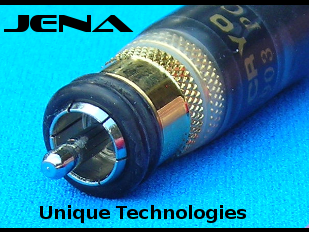 ..
Call our dealers or us directly with any questions or special orders.  Our phone:  503-639-7551
Many of the interconnects below have no picture, we changed the color code of the ends from red and white to black and red.  Fresh pictures are being made, as they are to represent current production.
So some of the slots await the new pictures... If I am lucky,  I get to take a picture of them before they get delivered.
Digital



Tables being rebuilt below...



DIGITAL AUDIO DATA INTERCONNECTS


SP/DIF (RCA)        AES-EBU(XLR)  MSRP                MSRP
Open braided series
TrioPlus Digi-Link



SP/DIF (RCA)  MSRP

3.0 Ft.   $250.00

4.5 Ft.   $280.00

6.0 Ft.   $312.00
AES-EBU (XLR)  MSRP

3.0 Ft.  $280.00

4.5 Ft.  $312.00

6.0 Ft.  $375.00


 

             


Picture soon         





Fugue Digi-Link



SP/DIF (RCA)    MSRP

3.0 Ft. $500.00

4.5 Ft. $625.00

6.0 Ft. $750.00

 AES-EBU (XLR) MSRP

3.0 Ft. $562.00

4.5 Ft. $655.00

6.0 Ft. $812.00




Picture Soon

SKADI  7x22g Digi-Link

SP/DIF (RCA) MSRP

3.0 Ft. $750.00

4.5 Ft. $817.00

6.0 Ft. $900.00

AES-EBU (XLR) MSRP

3.0 Ft. $780.00

4.5 Ft. $912.00

6.0 Ft. $1030.00






 Freya Digi-Link

SP/DIF (RCA)

3.0 Ft.  $2,000.00

3.5 Ft.  $2,250.00

4.5 Ft.  $2,625.00

6.0 Ft.  $2,875.00

AES-EBU (XLR)

3.0 Ft.  $2,125.00

3.5 Ft.  $2,350.00

4.5 Ft.  $2,725.00

6.0 Ft.  $2,950.00






Haldi Digi-Link

SP/DIF (RCA) MSRP
              
3.0 Ft.  
 $3,600.00

4.5ft
 $4,875.00           
 


AES-EBU(XLR) MSRP
  
3.0 Ft.  
 $3,850.00

4.5ft
  $5,000.00




MATKI  19x22 Digi-link



SP/DIF   (RCA) MSRP

3.0 Ft. 
 $6,250.00

4.5 ft
 $7,125.00

 



AES-EBU  (XLR)  MSRP

3.0 Ft.
 $6,450.00

4.5 ft
 $7,325.00








Njord 25x22 Digi-link

SP/DIF   (RCA) MSRP

3.0 Ft. 
 $8,150.00

4.5 ft
 $8,500.00

 



AES-EBU  (XLR)  MSRP

3.0 Ft.
 $8,250.00

4.5 ft
 $8,750.00