...

A new view... on recording technologies.
Page under new construction


A "Master Optical" Natural Acoustic Sound Recording produced by Dream Dancer Music Division of Jena Technologies LLC.
Solidifying the new division of our company called
DreamDancer Music
was our direct recording in DSD of Beethoven's 9th on June 9, 2007. The recording went very well. The all-Beethoven concert was held at the Arlene Schnitzer Concert Hall in Portland, Oregon. Yaacov Bergman, conductor.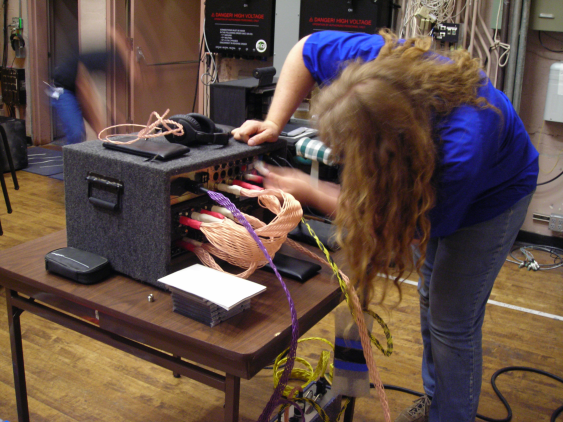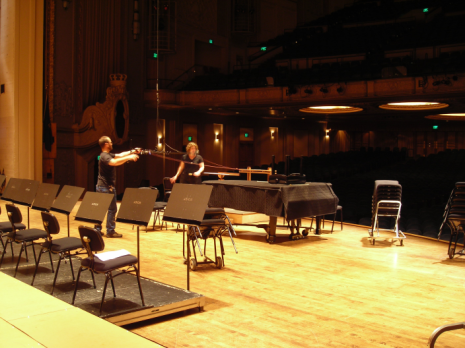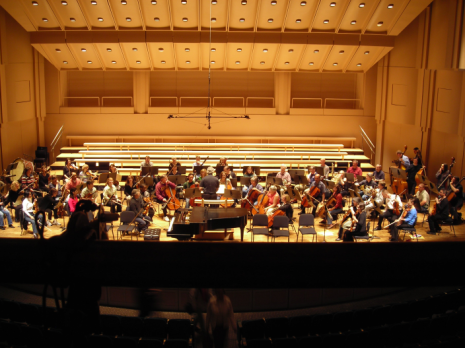 The 9th on the 9th rehearsal before performance.

Below:
A couple of pre-performance pictures of the setup of the 2008 performance of the Creatures of Prometheus concert.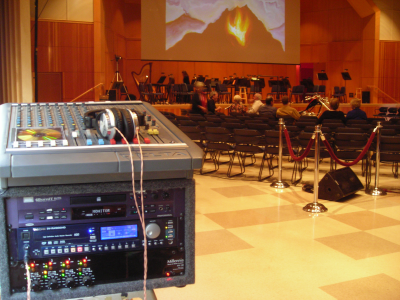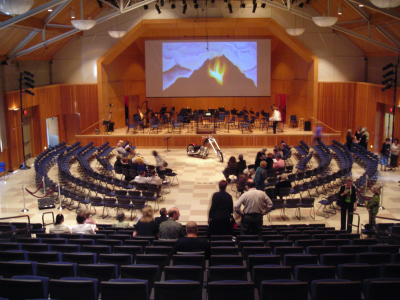 Yes, that is a chopper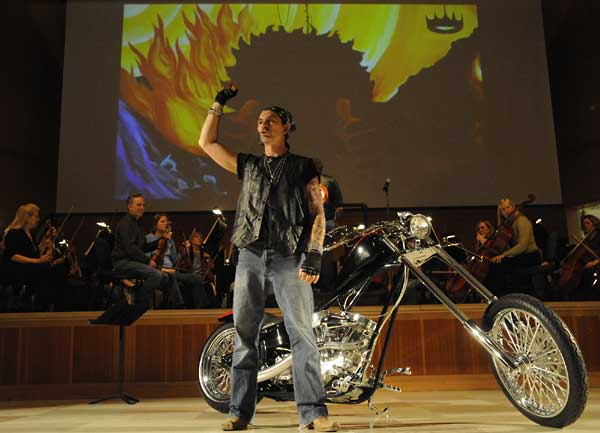 Prometheus shaping humans (dress rehearsal).

(picture credit: Portland Chamber Orchestra)

"The Creatures of Prometheus", with projected details of oil paintings by Liz Gill Neilson and narration by David Robinson, May 24 2008.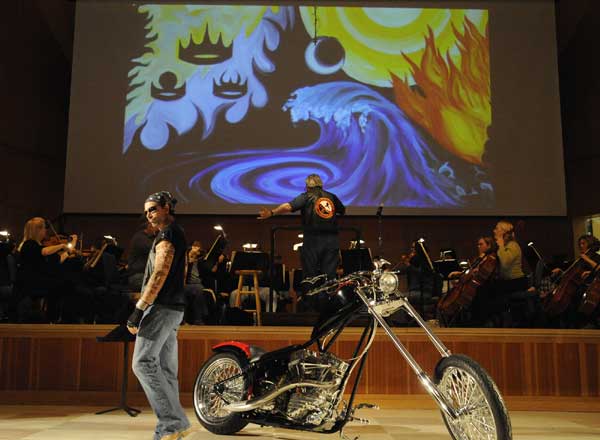 Great Performance interpretation.

http://www.youtube.com/watch?v=DuVus1OY6qk - Portland Chamber Orchestra presents Prometheus - We were the audio engineers and the recordists, but we did not produce the video.
East2west studios produced the video.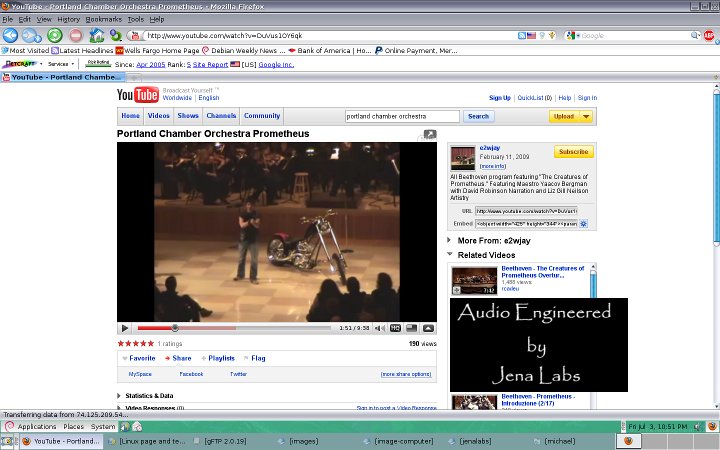 .

DreamDancer Music and Recording
Live Location Recording
EXPERIENCE
DREAM DANCER MUSIC. We have extensive experience with numerous Choral organizations, small group and chamber ensembles, soloist recitals activities, even jazz, folk, ethnic, and bluegrass performances in sites ranging from public halls, churches, and private homes. Jennifer began recording at the age of 6, back in 1958, using her father's Wollensac open reel tape recorder. She has been an avid and passionate sound and music recordist all her life. She brings her 5 decades of recording experience and 3 decades of professional analog electronics engineering to every recording job.
EQUIPMENT
DreamDancer offers live location recording services featuring minimalist 'Natural Acoustic Sound' techniques to archive sonic events in *DSD *format for SACD, and High Bit Rate *PCM* format for CD and DVD Audio. We are equipped for many microphone pickup patterns to best suit the music or sound, and the venue. Stereo patterns such as Blumlein, M-S, Decca Tree, M-S enhanced Decca Tree, Blumlein enhanced Decca Tree, 2 or 3 mic wide spaced arrays, and other combinations are possible with our matched trio of Josephson C617Set omni mics, our matched pair of Sennheiser MKH-30 figure-of-8 mics, and our collection of assorted microphones from Neumann and others. Microphone amplification is performed by highly modified and enhanced Millennia Media Systems HV-3D/4 and Manley Langevin DVC. This equipment allows us to select the most appropriate electronics for your music, vocal, choral or sound presentation. We are also equipped with a wide range of stands and overhead rigging allowing us to set-up and operate in just about any performance environment. All of our cable and equipment interconnection needs are met by custom made proprietary cables, manufactured in-house by our principle business, JENA Technologies LLC, or products carefully selected from the leading commercial sources.
FORMATS
DreamDancer offers use of the only Oregon based ultra-high resolution DSD Stereo recording system, the only acceptable format for production of SACD music releases, recording at over 64 times the resolving power of a CD. Our recording setup features both the Genex GX9000 eight channel DSD recording system, and the Tascam DV-RA1000HD Stereo recording system. Additionally, we will soon offer high-bit-rate PCM recording in up to eight discrete channels at 192/24 PCM. Through our affiliates at other studios, conventional Digital multi-track post processing services are available, performed with Q-Base or DigiDesign Pro tools.
PRODUCTION
We can also arrange limited-run and large scale production of high grade CD and SACD music discs.
AREA OF SERVICE
Travel in the Pacific NW is not a problem, it's where we live. Out of area travel to distant venues is possible, given sufficient time to make appropriate shipping and travel arrangements.
RESTORATION AND FORMAT TRANSFER
DreamDancer Music can also assist you with transfer and/or recovery of past performances that you may have recorded on any of a number of analog or obsolete digital formats. For restoration or transfer that we cannot perform in-house, we maintain working relationships with the top audio transfer and restoration engineers in North America.
FEES
DreamDancer works on a sliding fee scale to accommodate budgets ranging from private family recitals, Educational Institution music programs, 501c3 Arts Institutions, and commercial music or film score interests . Please call us to discuss your venue and situation.
Jennifer WhiteWolf-Crock, Engineer mail@jenalabs.com
Michael Crock, Business Manager mail@jenatek.com
Phone 503-639-7551
Lake Oswego, Oregon
Pictures below of other recording sessions: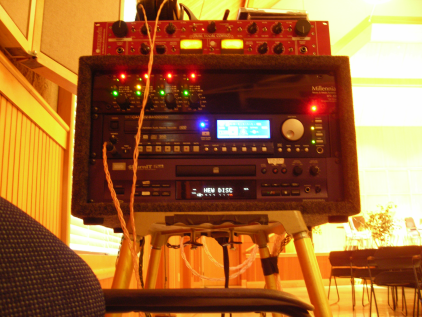 .
and from behind shown below...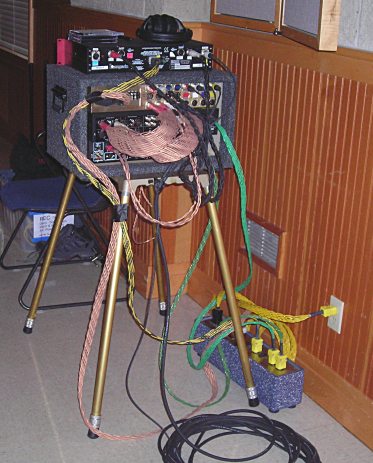 With our AC power filters, Power cords and Interconnects of course :)
and the recorded performance with the modified Decca Tree of our design.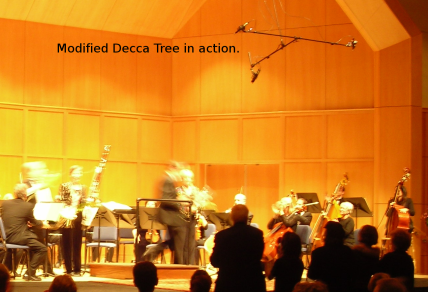 .
.
.
.
.