..

Currently one for sale: 1,400.00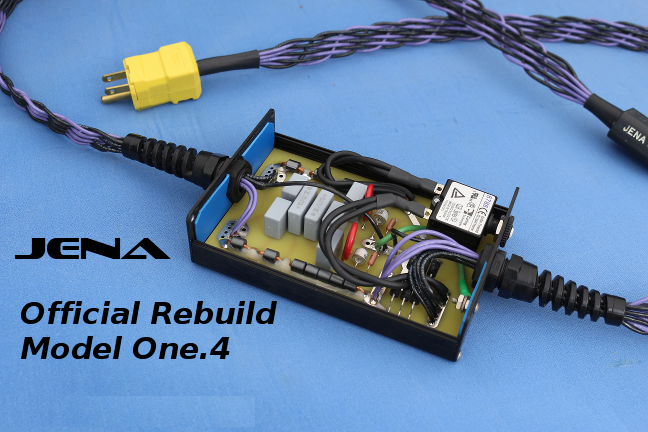 SN 007, Dimensions measured from the inside of the plugs 6.ft 6 in.
NEMA plug (the wall plug) 3 ft -     Yellow - hubbell
IEC (equipment plug ) 2 ft 9 in -     Compact IEC
916 style hand braided cordage.
Condition excellent. {Past - (if known) well cared for Model One.2 } it was a trade-in on New Model 3
Date of re-manufacture, Approximately One week ago
Date of last use - Feb 20 2018 full tested post production use


    Updated:
Feb

20

th - 2018

2nd index
       

   
New main board full Model One .4
-
Re-Manufactured from
trade in's of any Model One!
>> People trade in older but perfectly good Model One's for newer models of our power conditioners !!
           >We have retired all of the previous versions of this older design now... in favor of the last version to be produced.
          

The New Model One .4 with a totally new main board is the basis of what this product is....


            ...which incorporates all of the features of all of the previous versions in the best architecture yet.
          An all new design, new and better capacitors, just like all of the rest of our conditioner series have currently.
NOTE:  On this page is the specific information you need to understand about what these are.
These are previously owned Model Ones.x of different variations re-manufactured to the new specifications with a new main-board

All new Components on a new board of new design - the latest, up to date.

We take the older (any series in the past) box and cord set and integrate the new internals... and all become the same except the outer box and cords are left intact if they pass examination to be good to use.

As such these are as they are in regards to the length of the cords and the end components - these are rebuilds.


We provide here the ones we select for resale with the specific dimensions for each one with a serial number... and all carry a full warranty!
        Contact <mail@jenatek.com> Questions and Inquiries welcome
.

      .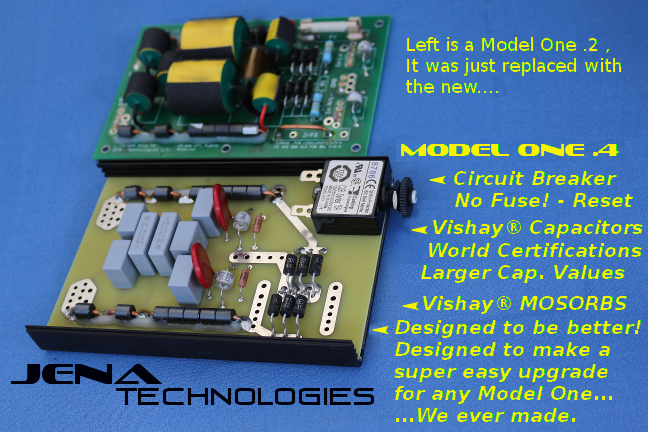 .

        So the question I would ask is How many Model Ones exist in the wild... since none have ever been actually retired forever? 
Answer - perhaps 500 ~ 800 in the wild... of the first series with a fuse on the hot leg we only know of 3 that were returned with a blown 20 Amp fuse and 2 of those had additionally locked MOSORB's due to lightning strikes saving a studio in Colorado.

Fact is, we do know, they have been sold once in a while on the used market as is... and then we have upgraded many of those from one model to an new version... and in that was one of the reasons we have come up with this idea.

A 

Power conditioner can last for the life of the parts it is made out of, we suspect that is about 75~100 years or more...
However, none have ever failed.  And we really do not know how long they can last.
We did see and upgraded 2 of the first ten ever made in years past, they were in use in Puerto Rico and the original owner had passed away - the Inheritors wanted an upgrade. The same for several Platinum's (another series of conditioners we have made as well)... long ago which is the ancient origins of the Sequoia, World Standard flagship product.

We have seen that before from other places and times...
Finding a Model One for sale is rare...

So you find yourself here... At last.      


 


        .-.-.-             

Website initialized on Hevanet   V - XXVIII - MCMXCVIII
Copyright 2018 Jennifer Crock and Michael Crock, JENA Technologies LLC ©