n
The Model TWO AC Power Conditioner -

Please note: The Model Two is compatible with both single sided AC power, Hot-Neutral-Ground, and balanced power, Hot-Ground Hot.

The Model Two is available in two voltage versions.



The first version is for AC power of 100 to 130 volts.
This power can be single sided such as the USA standard of Hot-Neutral-Ground, or balanced such as Hot-Ground-Hot.

The other version is for AC power of 200 to 250 volts.
This power can be single sided such as European Hot-Neutral-Ground, or USA 240 balanced such as Hot-Ground-Hot.

The conversion of any Model Two from one voltage range to the other can be accomplished in the field by simply exchanging the BIFROST module.
With the exchange of this one simple module, the Model Two becomes compliant with any grounded household AC power system in the world.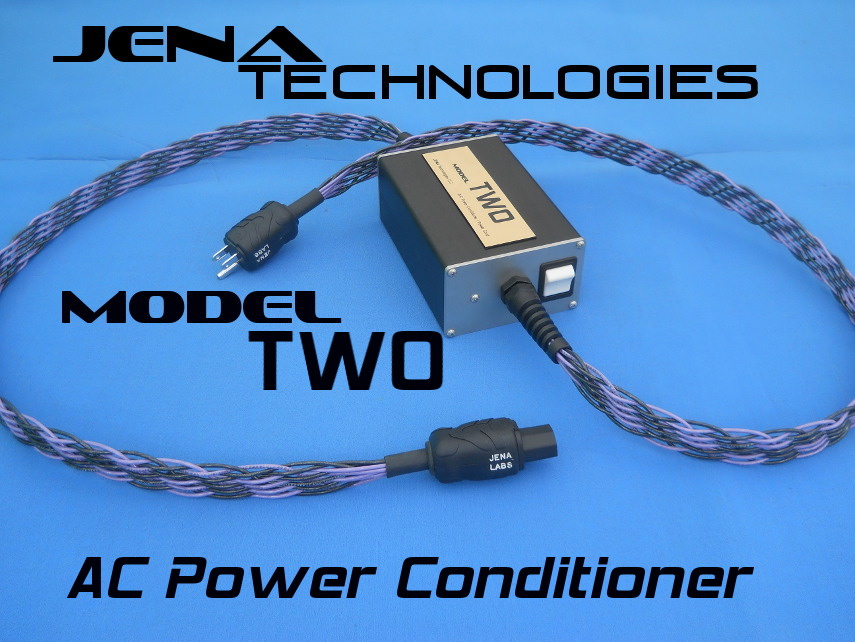 .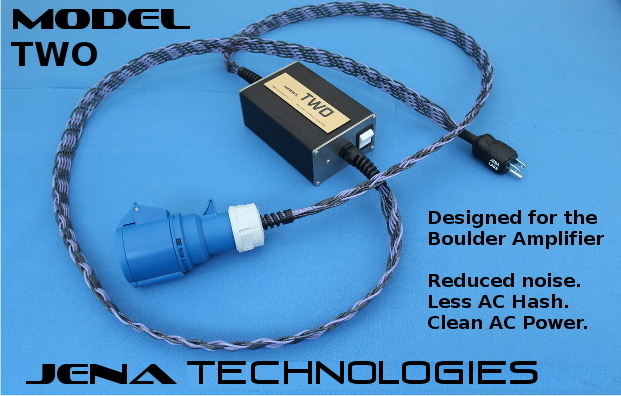 .
Above: Please e-mail to contact to make what you need.

These are The Model 2's features:

Components where applicable.

A thermal Dual Circuit Breaker rated to the 20 Amp national standard. Replaces the high current ceramic fuse of earlier models. Its main feature is it breaks and resets on both the hot and neutral rails and has a quieter electrical operation.

Certified Vishay® Capacitors. These capacitors are multinational certified and are designated for either X or Y use depending on the place in the circuit.

The Gas Tube spike and lightning protection circuit combines with Metal Oxide Varistors of truly modern design. It is out of the circuit so it is dead silent in the circuit until protection from lightning needed, very fast reacting.


Mosorb technology integrated into the active circuit to give general surge protection to both over-volt and surge current. Super protection, we invented the arrangement into a new kind of replaceable package.

( Our name "BIFROST"

) Is a module. It is very quiet under normal operation and super fast acting in the circuit when needed to clamp to ground. As a sacrificial component it takes the potential damage from bad line events which do happen in the real world. It is designed to be completely replaceable in the field so shipping back to us is no longer necessary when bad things happen in the world of AC power.

Vishay® precision bleed down resistors - non inductive.


NEW

Cardas NEMA & Cardas IEC plugs, custom modified design for use by JENA Technologies. These are great, rhodium plated parts and these replace the great parts we used. Better parts and are very good looking.

Stainless end plates of heavy build and a distinctive appearance. The laser cut .115 thick 11 GA SS T304 Stainless Steel is edge sanded for smoothing and then bead blasted in house to give a finish that is easy to clean and will last many years looking great. And the main housing parts are an anodized aluminum extrusion we modify and line with Cascade Audio Engineering VB2.


instead of the 9 wires of 16 gauge, we have been able to incorporate 11 wires of 16 gauge wires into the weave of the cords, so it will handle the heaviest loads of big amplifiers. Up to 20 amps before the breaker trips.

The assembly hardware,

6-32

button socket cap in 18-8 stainless steel is made by Brighton-Best.

Actual physical standard length is about 8 ft long

No more fuses they were slightly noisy and required replacement when blown.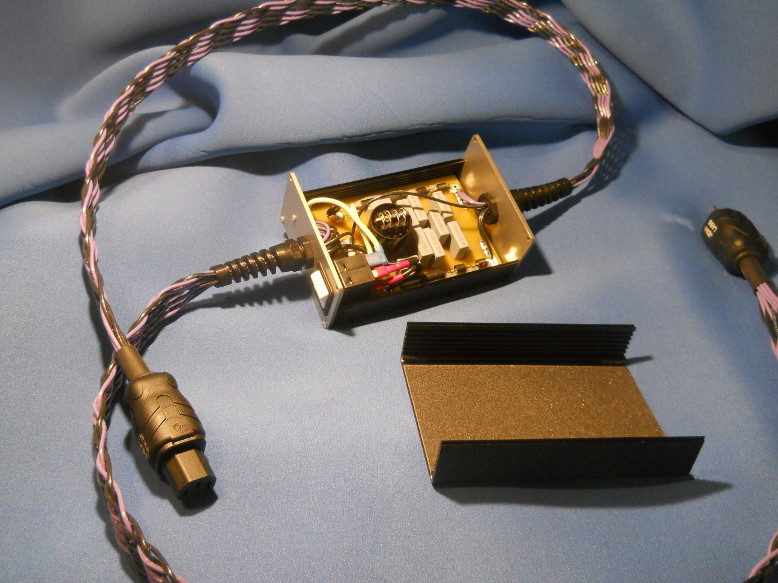 .
A customer testimonial:

11-22-14
So, I just got the Model 2 and plugged it in to the Oppo BDP -
105D
Blue-ray player, just to see what it would do: WOW!
Everything, including the picture and of course the sound, just looks and sounds more 'right'...
Color rendition, blacks, detail, sharpness, basically everything that makes a good picture on a plasma has improved!
And of course, the sound is greatly improved as well! Every aspect of the sound--just like the picture--has been improved. And this thing is still cold from being outside in the USPS truck.
This reminds me of when I received your interconnects and speaker cables: everything about the sound just 'feels' more right.
I'll be letting you both know how it does as time goes by and I watch and listen to program material.
Chris S.
- After a month he wanted to add to the comments with some more data post break in:
added 12-25-14:

Music has become a little more fleshed out and at the same time more natural.

I think that colors (
Edit addition:

Oppo BDP - 105D, see above. ) , depending on the source of course, have become a touch more natural as well.
Not as big as an improvement as when it was when I first put it into the system. ( Edit addition: getting better, however, now it is broken in. Stable performance. )

Take care and talk to you soon,

Chris S.




And
another customer testimonial:


And here is another review of several of our products but since this customer has mentioned the power conditioners extensively,
I am placing it here as well in the JENA review page:


I spent the last 5 years building out my high end audio system. It is pretty stable now and I thought I had nailed the cabling as well. I went from Cardas Golden Reference and Harmonic Technology to Audience top of the line cabling. Audience was beating anything at or below its price range and most cables that cost more, some time significantly more. I standardized on it - interconnects, phono cable, speaker cables, power cords, power conditioner. All top of the line versions. Super good stuff - read the reviews ...can't go wrong with their product. Then...I ran across JENA Labs. One modest Jena Labs Pathfinder interconnect. Wow - the soundstage was the most coherent I have heard it. No note lost; every part of the soundscape present and accounted for. Organic and natural with ZERO GLARE AND ZERO ELECTRONIC CHALKINESS OR SHEEN. Harmonics true to form.

So I have slowly been building up my system on Jena Lab cables, including interconnects, speaker cables, phono cables from tonearm, headphone cabling etc.

And...I am buying the Sequoia Power Conditioner. I have been picking up the Jena Labs Model Two power cord/conditioner. Let me say this Model Two is a taste of Jena Labs upper end impact at a really modest price. It is insanely good and incredibly reasonable in price.

I just switched out my reference 20amp power cord to my ARC Ref 2SE phono preamp. Amazing difference. The previous power cord was no slouch - beating cords 2-3x in price. The JENA Labs Model Two however took everything to a new level. The sound-stage was huge - width and height. The piano and vocals and strings and high hat cymbals were oh so natural and right with perfect pitch, timing and decay. I can hear differences in power cords but usually they are modest differences and typically relate to noise floor being lowered at expense of dynamics and life and presence. Now I can hear other even more significant differences with Model Two -- the seamless and coherent and proportional sound stage, the rich natural non electronic sounding harmonics and tone. The same dramatic differences I hear with the interconnects and speaker cables are same with the Model Two to the same if not bigger degree. The first time I have witnessed that with power cords to this degree of noticeable impact.

Coherence and perfect phase/timing, absence of digital or electronic glare, natural timbre and tone with organic ease to the sound. That is the consistent pleasing musical effect of Jena Labs product. I am hooked.

Not the cheapest cables but worth every penny and then some especially the Model Two. I hope they don't raise the prices when they figure out they are not charging enough. Or if they do raise the price they need to wait until I have bought 4-5 more.

My system:
Audio System

Sources:
- Spiral Groove SG 1.1 table with Centroid Arm and Clearaudio Goldfinger Statement cartridge with Audio Note SUT
- AMG V12 table with Benz LP-S cartridge
- Clearaudio Innovation Wood table and battery supply with Graham Phantom Supreme + MC Anna cartridge and Thomas Schick 12" + Miyajima Zero mono cartridge
- Modwright Sony 5400es tube CD player
- PS audio perfect wave dac mkii (2nd system)

Preamps:
- Air Tight ATE-2001 preamp
- Air Tight ATC-2 preamp (2nd system)
- Audio Research Reference 2SE phono preamp
- Herron VTPH-2 phono preamp

Amplification:
- Constellation Centaur stereo amp
- Air Tight ATM-2 tube amp (2nd system)
- Conrad Johnson Premier 350 amp (backup)
- various headphone amps (ALO studio six, Pathos Aurium, Bryston BHA1, Beyerdynamic A1, Sugden Headmaster, Chord Hugo, etc)

Speakers:
- Magico S5
- KEF LS50 (2nd system)
- various headphones (Audeze X & XC, Beyerdynamic T1, Sennheiser HD650)

Darrin P.



.
.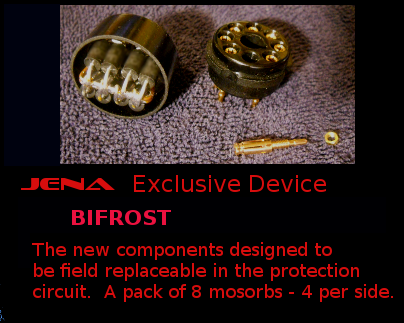 .
(BIFROST means: Bi-directional Integrated Field Replaceable Overvolt System Technology )

The BIFROST device itself is hand made by JENA Labs directly in the United States.
The Sockets are a high grade Bakelite base with high grade machined copper and gold plated receptacles.

With the need for high-performance AC power conditioning, and with an eye toward reasonable costs, we set out to create AC power-conditioning products that are affordable yet give a range of AC power conditioning that will satisfy almost any set of needs. All of these products are award winning designs, built to last, with dependable and predictable results that have made them famous.

We set the bar very high and with this series of AC power Conditioners just set it higher with the new Model Two.

We started with a prototype of the basic circuit in an armatured version like the AC power washing Machine of long ago.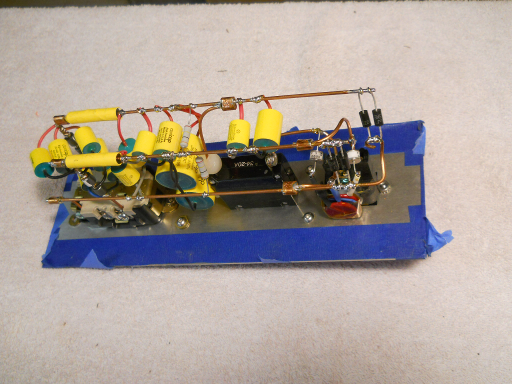 . pictured right - Original Model One.3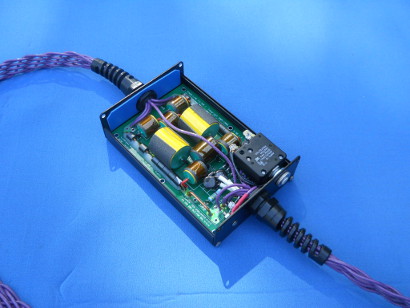 The unit above, the original prototype AC Power Washing Machine, single duplex type.
has been equaled and beaten by the New Model Two with higher grade capacitors of higher values and a dual rail circuit breaker.
And a better design of greater capacity for the protection components as well. The Model Two is fantastic.


Originally we converted the design to be built onto a high current capable Printed Circuit Card of our own design for use on a single line as the Model one.
The PC Card has a built in buss bars that will handle over 20 amp loads with ease.

On the model One.3 a
thermal circuit breaker rated up to 20 amps on some models to match the house line rating, It was much quieter than the 20 Amp fuse we use to use.

Various inductors are selected for frequency filtering over a broad bandwidth of noise.
Cardas® quad eutectic solder is used always with all of our power conditioners. Never any shortcuts to using the best of all components and materials.

We hand select all of our parts and carefully choosing only the finest and toughest for the purpose intended.

None of our conditioners are made by a machine, all are built by hand by a NASA certified hand solder expert.
After we produced several hundred Model Ones... all are still out in the field doing their work, none ever failed to do what it does... we just decided to better our own product.
Why not, we learn, we grow. we design the best of the best. The Model two is the standard by which others must compete with.

The Model TWO
Standard IEC plug pictured below: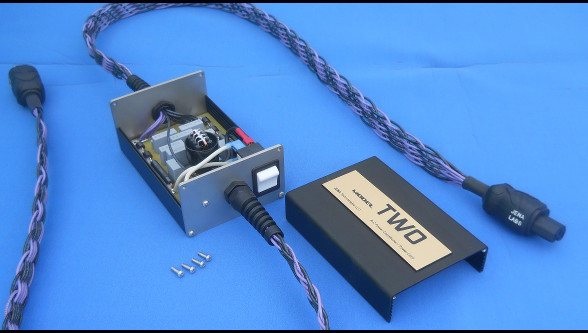 .
20 amp IEC is also available same price.
Experimental picture below from Photo-bucket - test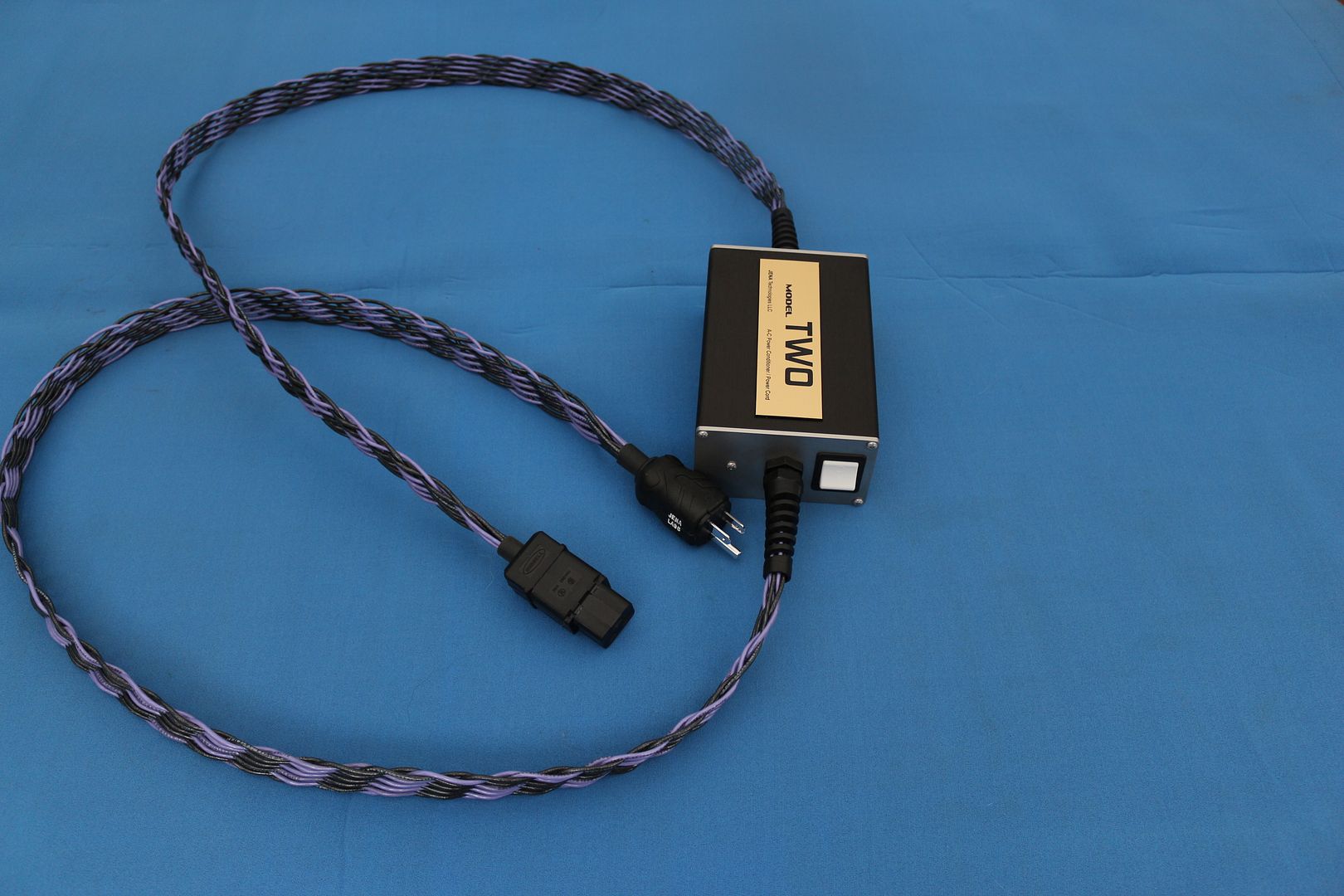 ..
.
Price is:

New price

due to elimination of dealers
MSRP - $1,800.00
These are made initially for specific voltages!! 120 VAC Hot-Neutral-Ground as US AC power Standard.
Let us know if different
.
However, they are easy to be adapted for a different voltage with a simple change of the BIFROST Module.