JENA  Technologies
Contact Enhancer
THE CLEAR SOLUTION
...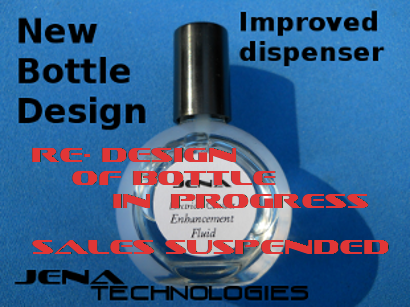 OLD PICTURE FOR REFERENCE  .
Sales temporarily

halted

for product dispenser re-design
Sales temporarily

halted

for product dispenser re-design
seriously - Its popular but stop and wait - coming back soon !!!!
       
   

This product is designed to enhance the electrical contact of home stereo components cabled together with interconnects including speaker cables




   


Directions for use
Apply a thin film of the fluid to clean connector contact surfaces. Just apply a drop of fluid to the contact surfaces to be treated. Spread with the tip as needed.

☺ The fluid will enhance the electrical conductivity of the connection by the electron tunneling enhancement activity of the dimethylpolysiloxane component.

☺ The fluid will reduce micro surface galling of sliding contact surfaces by lubricating the interfacing surfaces.

☺ The fluid will assist in surface oxidation protection by creating a thin film on the metallic surfaces it is applied to.

☺ The fluid is safe to use on the pins and sockets of vacuum tubes. It will not turn into non-conductive white powder like some products when on or near hot surfaces.

☺ The fluid contains no metallic particulates or molecular colloids that can cause short circuits or oscillations.


The fluid contains electron tunneling dimethylpolysiloxane oxide and an evaporative diluent, a light petroleum product, Odorless Mineral Spirits.
The fluid IS flammable and/or combustible until after the diluent has evaporated.

!! Keep away from fire and flame!!
 DO NOT eat or take internally. Avoid prolonged contact with skin. Wash fluid from skin with common soap and water.

         Price includes shipping within the USA $
 
PayPal will return soon with new price
                                                                                                                        Sales temporarily

halted

for product dispenser re-design
.

  Web site made with
HTML editor for GNU/ Linux.
Website initialized on Hevanet   V - XXVIII - MCMXCVIII
Copyright 2021 Jennifer Crock and Michael Crock, JENA Technologies LLC ©

In Portland Oregon.