The "STEP IT UP" mc~phono transformer set

    The basic building block of the Step-It-Up  is a pair of custom made dual ratio transformers, built especially for this product by the legendary magnetics house, CineMag.
    Each shielded transformer is held in its own vibration isolation ring inserted into an aluminum plate. That plate is also further isolated from the extruded aluminum housing using special elastomer stand offs. These are rarely seen in audio products, but were one of the methods used by Saul Marantz and Sid Smith to isolate the vacuum tube mounting panel from the chassis in their magnificent Model Seven preamplifier. If it was good enough for them, its good enough for us.

Internal wire is JENA LABS legendary 22 gauge UltraWire, and all soldering is performed with Cardas Quad Eutectic solder.

Interface in and out of the Step-It-Up is performed with the top of the line Cardas RCA jacks, which have been treated to a full Immersion Cryo Process in the JENA LABS Cryogenics laboratory.  


basic price is $800.00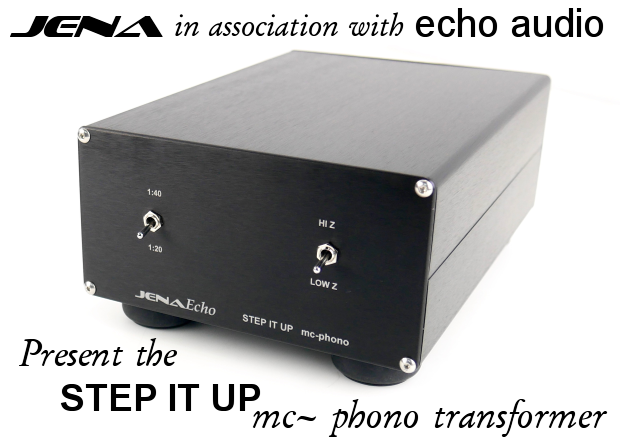 .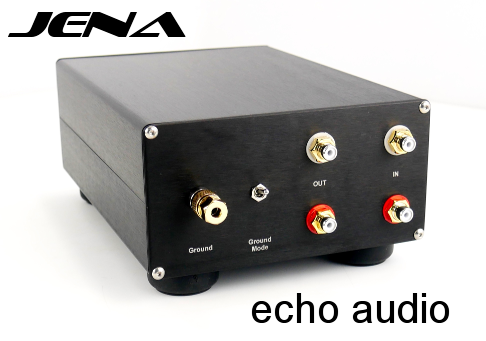 Standard version price is $800.00
.



The

Enhanced

version:

Same case and custom transformers as regular Step-It-Up - JENA  Adds a 6 position rotary switch for secondary loading,
gives 12 choices of input impedance to load the cartridge instead of 4.
Enhanced version price $1,200.00

Direct from JENA LABS only

, an Enhanced version is available.


1:20 Ratio ohms input Z
117.5
94
75.5
60.5
47.9
38.1

1:40 ratio ohms input Z
29.4
23.5
18.9
15.1
12
9.5

Website initialized on Hevanet   V - XXVIII - MCMXCVIII
Copyright 2009 Jennifer Crock and Michael Crock, JENA Technologies LLC ©